Featured Item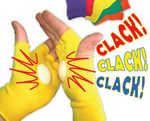 Spirit Clakker Gloves
These one-size fits all, knit fingerless gloves with hard plastic disk on the palm of each hand, and they make a distinctive clacking noise when clapped together. With a one color imprint on the back ...
$2.93 - $2.98
TY Ink Promotions
Take advantage of our creative sales staff to find items that will increase your sales, improve your trade show traffic, improve your company visibility and build your brand!
We are a full service advertising specialties company offering a wide range of promotional items to promote your company. WE DO T-SHIRTS!!!
We help you find a cost effective way to market and promote your business with custom promotional items that speak to your customers and clients. ASK ABOUT OUR T-SHIRTS.
With the number of companies we work with the possibilities are only limited by your imagination. YOUR CUSTOM T-SHIRTS ARE LIMITED ONLY BY YOUR IMAGINATION!
Need brand name sport shirts or caps with your logo embroidered on it. Call us.
Worried about your OLD logo? Call us and we will help you design a newer, eyecatching, professional logo. We do art!
It's never to early to start your holiday shopping. Business Holiday gifts are a great way to build customer loyalty. Check out our food gifts or let us come up with something creative and useful that will remind your customer about your business everytime they use it.